UNCUT PRESS SHEETS

Information and Reference of What They Are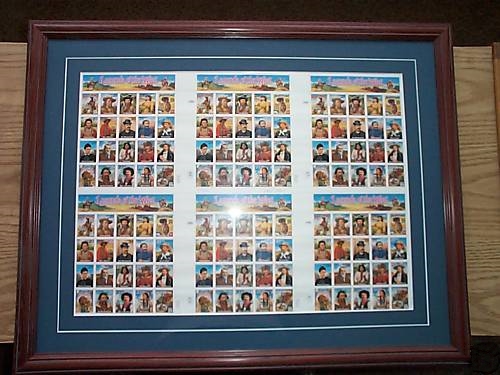 UNCUT PRESS SHEETS, WHAT ARE THEY AND WHICH ONES ARE THE RAREST ONES?

We will begin this with a description of what they are.
Then we will look into the history of them.
Finally we will look at the rarity. Here we go.

THE DESCRIPTION OF UNCUT PRESS SHEETS

Most people buy stamps in single issues, booklet panes or small sheetlets or panes. Uncut press sheets, also known as master sheets or printers sheets, are what most stamps originate from. They are large sheets run through a printing process much the same way as newspapers, magazines, books and many other printed materials are produced. A misconception massively used in stamp terminology by collectors and dealers alike is calling panes SHEETS. In most cases even when the pane contain 100 stamps it is still just that....a pane, NOT a sheet.

The number of stamps per sheet varies, depending on the press, the size of individual stamps and the format. A sheet may have 400 individual stamps, resulting in four panes of 100 stamps each. A 200-subject sheet could have four panes of 50 stamps each, and so on. The sheet may only contain souvenir sheets. Depending on size they may run 16 or 20 or 25 souvenir sheets on one sheet. Sometimes they will have both stamps and souvenir sheets on the same sheet.

Thus for it to be called an uncut sheet it must contain all the panes or souvenir sheets or both. We will show example images in the following sections.

THE HISTORY OF UNCUT PRESS SHEETS

Basically the first uncut press sheets released to the public was in 1907 in the U.S.A.. Various U.S. stamps of the 1902 series were sold in imperforate sheets to commercial users of stamp vending and affixing machines. These mass mailers required uncut sheets for use in their stamp-affixing machines. Word of the imperforate sheets reached the collecting public. The resulting outcry led the U.S. Post to make the sheets available to collectors. Imperforate sheets were available throughout the affixing-machine era, 1907-26, through the Philatelic Sales Agency.

EXAMPLES OF LINE BLOCKS FROM 1907-26 U.S. UNCUT PRESS SHEETS



Dealers and collectors cut these sheets up and saved position blocks that came only from uncut sheets. They used the rest of the stamps from the sheets for postage. A full uncut sheet is now pretty much non-existent.

The U.S. Post stopped providing uncut press sheets to the public in 1926. In 1935 stamp collectors learned that uncut sheets were again being provided to a select group, and this time they were not even paying customers. In 1933 and 1934, Postmaster General James A. Farley supplied uncut press sheets of some U.S. new issues to various friends and dignities, including President Franklin D. Roosevelt. When word got out, the upset went well beyond the stamp-collecting community.

The U.S. Post, gave in, and in March 1935 made available uncut sheets of 20 previously issued stamps. The 1935 special printings, also known as the "Farley Follies" of the 3¢ Peace of 1783 stamp, Scott 752, and of the 3¢ Byrd stamp (753) were perforated. The rest of the 1935 special printings, Scott 754-71, were issued imperforate. All were issued without gum, although in 1940 the U.S. Post offered to gum full sheets of Scott 754-71 for collectors. Collectors had a field day, separating the sheets into pairs and blocks containing gutters or marginal markings that did not appear on the stamps as originally issued.

Five souvenir sheets, Scott 766-70, were also issued as press sheets, with nine, 20 or 25 panes in each sheet.

EXAMPLES OF THE FARLEY UNCUT PRESS SHEETS


No more uncut press sheets were issued until 1994. Unlike the previous sales, the modern uncut sheets were a deliberate marketing ploy. The Postal Service had hopes of tremendous philatelic sales. As George Amick describes it in the 1994 Linn's U.S. Stamp Yearbook, press sheets of the Legends of the West stamps were "for sale to collectors as a revenue-raising scheme."

Collectors wanted to know how uncut sheets fit into the hobby: how to store them, how the catalogs would list them and how albums would allot space for them. Leaving the Legends sheets in the original Postal Service packaging was the least desirable storage choice. The packaging materials were not safe for long-term storage. As the USPS continued to issue uncut sheets, the stamp market developed storage products for them. These can be found in the hobby accessory dealer advertisements in Linn's classifieds and at web sites such as www.amosadvantage.com.

Framing the sheets is an expensive option. It should be done with archival-quality mounting materials and appropriate glass and hung in a location protected from the long-term ill effects of light.

The Legends uncut press sheet was followed by press sheets of the 1995 32¢ Marilyn Monroe stamp. Uncut sheet sales for both the Legends and Monroe did not gladden the hearts of postal marketers or accountants: 46,385 of 58,420 Legends sheets, and a dismal 15,400 of the 29,000 Monroe sheets were sold.

THE 1995 U.S. MARILYN MONROE UNCUT PRESS SHEET



The USPS pressed on in 1995 with the 32¢ Civil War and 32¢ Comic Strip Classics press sheets. The Civil War uncut sheets sold very well, 14,684 out of 15,000 available, but Comic Strips sold less than half of the 30,000 printed.

THE 1995 U.S. CIVIL WAR UNCUT PRESS SHEET



THE 1995 U.S. COMIC STRIPS UNCUT PRESS SHEET



Since then many more uncut press sheets have been released by the U.S. Post. Canada Post joined in in 1996 issuing its first uncut press sheet of the Birds of Canada set. Other countries are following suite and uncut press sheet collecting has established itself in the stamp collecting community.

EXAMPLES OF OTHER UNCUT PRESS SHEETS FROM OTHER COUNTRIES


THE RARITY FACTOR OF UNCUT PRESS SHEETS

Philatelic history was made when for the very first time uncut press sheets of issued stamps were sold by Christie's in a public auction in London, England, July 14, 1995.

Not so you say? What about the 20 different stamps of the U.S.A. 1935 Special Printings? Thousands of uncut sheets were printed and no doubt complete sets of sheets were sold in this or that auction over the years.

The key words are "SPECIAL PRINTING". The stamps were mostly imperforate and while good for postage were never sold in post offices to the general public. Thus the "Farley Follies".

What Christie's sold were actual issued stamps as sold in cut-down panes in all the post offices of whatever country ordered them from the printers.

Yes, you guessed it, the printers were the Format International Security Printers Ltd. They were one of the suppliers of stamps through the British Crown Agents for over 100 different countries. A major portion of the stamps that were filed in their archive were in the form of uncut press sheets displaying as many different stamps as required in panes containing anywhere from 10 to 100 stamps.

During the companies existence these large uncut press sheets were never sold to the public. They were considered sample sheets for future printing runs and were stored in the Format Archive as many stamp printing entities still do to this day. Certainly not a single thought was given to, say, at some stage, selling the uncut press sheets to collectors. Thus the Format printers folded and refolded a major portion of these sheets into about a foot size square and filed them in crates. Many were damaged.

How many were put away? Depending on the subject matter, mostly 1 to 10 sheets!
For some of the more popular topics and royalty issues more were stored. Generally 20 to 60 sheets. So, as you can see, these uncut press sheets are exceedingly rarer than ANY uncut press sheets that are being produced and sold to collectors since 1994. They are rarer than the 1935 Special Printings.
Many ARE the rarest uncut press sheets in the world!

As you can see I have brought into play the question of rarity and value.

Take a look at Scott Catalog's valuation for the 1935 Special Printings. Note what is described as existing: horizontal gutter blocks, vertical gutter blocks, center blocks, center blocks with crossed gutters, center line blocks, margin blocks, right left, top and bottom, on and on.

Since the Format Printers printed 2, 3, 4, 5, 6 or more different stamps in various size panes on the big press sheets one can add to all the above descriptions unusual se-tenant arrays in dazzling variations!

Since Scott Catalog prices whatever they list at very much more than the same number of normal stamps yet there being thousands of these Special Printing sheets, HOW can one value similar varieties when all that exists in the world is 1 to 60 uncut press sheets???

An example of a very rare gutter pair is the Canadian Wartime 3c issue, #252 in a gutter pair. It is rated at $2,500.00 and it is known that 20 pairs exist. So then, what should gutter pairs from an uncut press sheet from the Format Archive of which only one was found and known to exist and only say 10 pairs can be made from it be worth?
What about the center cross gutter of which only one exists in the world be worth?
What about the side gutter blocks?
The top and bottom gutter blocks?
The corners with large selvage?
The sides with attached large selvage?

Just because it is not a U.S. or Canadian stamp means it is not worth? Many stamp rarities are classified as MUCH more valuable than U.S. and Canadian rarities.

Just because it is a modern issue it is not worth? These uncut press sheets were produced in the 70's and 80's. The U.S. started selling made for collector uncut press sheets in 1994.

Here is a quote from an article:


Six other 1997 stamp issues were available as uncut press sheets, but it was the 32¢ Bugs Bunny sheet that ignited collectors and dealers alike. The wascally wabbit adorned the first self-adhesive press sheets, which were actually half press sheets, cut in half horizontally, purportedly to facilitate handling. The USPS asked the printer to deliver 10,000 each of the top and bottom halves.

What the USPS made available for sale, however, were 5,244 of the top half and 5,856 of the bottom half. Bugs press sheets were a sellout, largely because of a startling discovery. Stamp writer and U.S. specialist Ken Lawrence noticed that the uncut sheets were not simply larger versions of the same Bugs panes being sold at post offices.

The Bugs uncut sheets differed in that they had no roulettes, the tiny vertical slits for separating the panes of stamps. This discovery resulted in the Bugs sheet inventory selling well and evaporating in nine weeks. The 2005 Scott Specialized Catalogue of United States Stamps and Covers reflects the ongoing "scarcity" of the Bugs sheets: $350 for the top half, and $625 for the bottom.

There are some variations in catalog listings, because of differing catalog formats. Scott usually lists and values the uncut sheet, a cross-gutter block, a horizontal pair with a vertical gutter, and a vertical pair with horizontal gutter. Blocks of varying sizes also may be valued. The uncut sheets and the special positions are not assigned catalog numbers and are not listed in the Scott Standard Postage Stamp Catalogue, Vol. 1.


end quote........................

Again I ask............why is the massively produced Bugs Bunny press sheet worth so much more than extremely rare Format materials? Vertical pairs with horizontal gutter....$25.00. Horizontal pairs with vertical gutter......$50.00. Cross gutter blocks of 9 or 10.......$200.00???? There are 100's!!!

If this is the case then all above combinations from a major portion of the Format Archival uncut press sheets is worth at least 10 times as much!

As one can see the uncut sheet market is very volatile with some having a very high and low pricing range. Mostly it appears to be more towards popularity.

Let's ask a question on this subject.
Is Bugs Bunny more popular than Princess Diana?
As a philatelist say you have $650.00 and in front of you, is the bottom half of the Bugs Bunny press sheet of which 5,000+ exist and next to it a full uncut press sheet of the Congo 1981 Royal wedding set of which only say 6 existed and 5 had been broken into gutters etc. The price being $650.00 for either sheet. Which do you think would be a better investment? A tough decision yes?

The key as it is in all philatelics is knowledge. At present most collectors and dealers know little to nothing about The Format Archives. Many have heard of ABN (American Bank Note Company), and Waterlow and Sons and the sale of their archives but not many know about Format. It is time that the philatelic community does have knowledge of this fascinating printing company and what was produced and what has been preserved. The research is vast and much knowledge about the company and many philatelic gems have been lost or scattered around the world.

Some of the uncut press sheets have been saved but many are now lost forever, broken in pieces and scattered. Perhaps YOU have a piece. Look at those gutter pairs and blocks. Check those stamps that have odd and/or large selvage still attached. Maybe you have one of the cross-gutters from the center of the sheet and maybe.....just maybe....it is the only one that exists!

This last presentation used to be a flash file. I converted it to HTML5 so now the buttons no longer work. Flash is no longer supported by most browsers now.

Here is a slide show presentation of images of some of these extremely rare uncut press sheets

JLowe


All Content Copyright © 2011 Golowe's Collector Stamps, All Rights Reserved
Collector stamps are fun!




UPDATED LAST ON: 15-May-2020 04:12 AM