GUINEA REPUBLIC ILLEGAL STAMPS
2005-2006
Information and Reference of illegal stamps dating 2005-2006 for the Republic of Guinea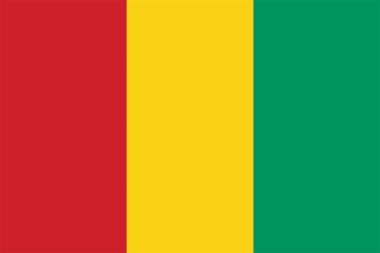 Because there is so much confusion on this country you should use a respectable catalog like Scott or Stanley Gibbons. Do not listen to these dealers trying to convince you the following displayed stamps (that are watermarked "ILLEGAL STAMPS") are something other than counterfeit illegal stamps. Because in many cases Michel is the only catalog listing certain issues I do not trust them as a reliable source. The same goes for Yvert. In the majority of cases with this countries stamps that are suspect of being illegal, just try to find a genuinely used one on a cover. You will find it.....impossible.

None of the Republic of Guinea stamps are listed on the UPU's WNS system. This is because none of them follow the rules set forth by the UPU for stamp printing.

I have found the Colnet online catalog to be helpful but confusing. Over 12,000 listings there now caused by the abusive stamp agencies.

The Colnet Online Catalog for Guinea Republic

Some of the illegal stamps are shown in their Cinderella section and noted as such. Still nothing close to what is out there as you will see.

The Colnet Online Catalog Illegal Stamp Section for Guinea Republic

I have found the Stampworld.com Catalog to be helpful as well. Noting they stopped listing after 2013. This is probably because all the Stamperija issues are sold directly through the agent and not used in the Republic as stated on the Colnet site for the later years.

The Stampworld Online Catalog for Guinea Republic

Many of the following illegal stamps can be found as imperforates and as color proof sets as well. Many exist on fake First Day Covers too.
Most times now (2021) the souvenir sheet sets and sheetlet sets are sold individually. Many times the stamps have been removed from the sheetlets and souvenir sheets. All of these "tactics" are used to avoid detection by UPU circular descriptions.

Sellers that call these "private", "locals", "cinderellas", "unauthorized" are deceiving you. They are illegal stamps produced by a stamp dealer that is bent on ripping you off! Some sellers state "we offer them because they are on the market". Well how about you use a different dealer because that seller is "on the market"? If the stamp societies, auction sites and all other venues kicked these sellers off of their sites then they would have to comply or lose their ability to sell anything.

The following images are free for the use of all to use to alert the public to them. If anyone wants to make a public list of users on eBay, Delcampe and elsewhere who are selling these issues....fine by me since the UPU, PWMO and others appear to have given up or have not been updated in years.

If you have purchased any of these stamps from a dealer or if that dealer offers them, you should avoid that dealer! You will only be supporting illegal stamp makers who are only ripping you off.


2005-2006
In 2005 nor in 2006 no illegal stamps were produced that are verifiable illegal stamps except for one set. The EUROPA set. This set is found being sold as a 2005 issue and/or as a 2006 issue depending on the seller. Most (if not all) experts at the time did not catch it as being illegal. They did catch the Chad, Saint Thomas and Prince Islands and the Mozambique sets though which is enough evidence in itself that the Guinea set (even though listed in Michel and Yvert) are indeed counterfeit illegal stamps.

Exactly the same style and production shows this set to be inclusive with the other three countries. Again this country is not listed as issuing any EUROPA sets by the EUROPA organizations. It is not recognized in the Scott and Stanley Gibbons catalogs. The Colnet and Stampworld catalogs do list it because Michel lists it. As explained by the Mozambique articles shown on the Chad and the Saint Thomas and Prince Islands pages for the Europa issues, the catalog was influenced into listing these counterfeits by purely evil entities. Those catalogs need to reform their position on them to ever begin to gain a status as a reliable source by collectors/dealers/experts like myself to recognize. Because of the evidence compiled against these EUROPA issues those two catalogs that are listing them are to be ignored!

We can see again that the same dealers are massively selling them online.

On Delcampe the past dealer again was stampshome located in the Netherlands. Exclusively found selling them under a "Guinea 2005 Europa" search. I found many users selling them at present in 2021 under the search for "Guinea 2006 Europa". The main one is gazmito located in Poland who is a notorious illegal stamp seller. Also a user by name alextsgm located in Lithuania with same status. Also found this really suspicious user who uses images that are somehow "hacked" with the user name Arturo1968 but the actual seller is saint_thomas located in Belgium or Belgrade_Addis_junction located in Belgium. Then in the past most prominent was harley_ni located in Taiwan and kicked off for selling counterfeits.

On eBay a prominent seller is philatelie-weltweit located in Germany selling lots of 100 sheets! The seller bogis located in Germany 10 sheets of each and has 10 or more of the same lot! Noting tomstampshop located in Italy makes the grade....again.

On Hipstamps again the dominant two sellers are Bentley1Stamp and artstamps (aka Isabeldelatour aka Juan Montero) both accounts kicked off Delcampe for selling counterfeits.

You can see already that there is something extremely wrong with this set of stamps. Continuously sold in large lots over the past two decades. Sold mainly by illegal and unscrupulous stamp dealers. Same design and forms as the other proven illegal stamp sets. Therefore illegally produced and distributed in the exact same fashion and therefore the status is just like the others,
Counterfeit Illegal Stamps!

Show proof of authorization by the Republic of Guinea postal administration and show proof of commercial usage of any of these and I can change the status. The problem for anyone including these counterfeit stamp dealers is....it cannot be done because they are just that....counterfeit.

The reason I present the images as 2005 issues is simple. Because of the imaged fake First Day Cover which dates them as 2005 issues shown at the bottom of this page. Of course the imaged cover is being sold exclusively by none other than artstamps (aka Juan Montero) on Hipstamps.

2005 EUROPA 2006 50th Anniversary Illegal Stamp Souvenir Sheet of 12
Michel Catalog No. 4202-4213, Yvert Catalog No. 2653-2664



In the beginning these were sold on an individual basis. Popularity of the EUROPA issues was great and the cons made a ton of money. In recent times that popularity has faded and the buying of these Katz/Montero made sheets has dropped significantly. So now...these cons are trying to "off" the obviously enormous stock in large lots like this. Selling it for around $60.00 thus at about 60c a sheet! All of them (the different forms) being offered by the cons on Hipstamps at "reduced prices". They all know....the jig is up. This page is yet another one exposing what they have done and are still doing.

2005 EUROPA 2006 50th Anniversary Illegal Stamp Souvenir Sheet of 12 Massive Sale Lot on eBay



Here is a snapshot of a few sales made in the past 90 days on eBay. It shows you how really unvaluable these are. It also shows you how massive the production was. Selling like this after 20 years? Indeed there must be several million out there. All in the name of tiny Republic of Guinea.

2005 EUROPA 2006 50th Anniversary Illegal Stamp Souvenir Sheets Past Sales on eBay



2005 EUROPA 2006 50th Anniversary Illegal Stamp Souvenir Sheets of 2
Michel Catalog No. BL915-920



2005 EUROPA 2006 50th Anniversary Illegal Stamp Souvenir Sheets of 2 Massive Sale Lot on eBay



Here is an image of a massive sale lot on eBay of the souvenir sheets containing a single stamp x12 on each sheet. Imperforates!

2005 EUROPA 2006 50th Anniversary Illegal Stamp Souvenir Sheets of 12 Singles on Each Massive Sale Lot on eBay



Here are deluxe souvenir sheets being exclusively sold by the two dealers on Hipstamps and Gazmito on Delcampe.

2005 EUROPA 2006 50th Anniversary Illegal Stamp Deluxe Souvenir Sheets of 1


Finally, here is an image of the Fake First Day Cover being offered by artstamps on Hipstamps proving these were produced in 2005. Note the month! On the Colnet catalog it states they were issued on January 15, 2006! so is that what Michel and Yvert are saying? There is no "misprint" on the cancels on this cover and it is clearly 2005.

2005 EUROPA 2006 50th Anniversary Illegal Stamp Souvenir Sheet of 12 on Fake First Day Cover
Michel Catalog No. 4202-4213, Yvert Catalog No. 2653-2664



Be sure to visit my pages for the 2005 Saint Thomas and Prince Islands Illegal Stamps and the Chad 2005-2007 page as well to get more details on this obvious scam. Then decide if you really want these counterfeits in your collection or dealers stock.
The advise is to avoid them and the dealers that sell them like the plague!!

This is the only counterfeit illegal stamps I could find in the name of the Republic of Guinea dating 2005-2006.

The production of counterfeit illegal stamps remained halted. But in 2009 something strange appeared.....

View Next Page here!

References taken from:
Major Stamp Catalogs
Internet Research
All Content Copyright © 2021 Golowe's Collector Stamps, All Rights Reserved
Real collector stamps are fun!




UPDATED LAST ON: 17-Aug-2021 05:08 AM